These features of Indexed Annuities might include the following features and benefits, depending on your unique situation and goals:
Guaranteed* lifetime income (possibly better than you thought!)
…that can potentially be up to 100% tax-free (restrictions apply)
…for you and your spouse (duh!)
…with potential to increase with market upturns (Intrigued?  This is one of the best hedges against inflation)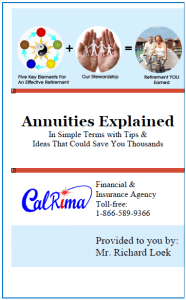 …but without exposure to market downturns (I'm intrigued, how can they do that?)
…with potential to double or even triple monthly benefits for qualifying "healthcare" conditions**
…plus you might leave money for your heirs***
…for less than you thought you'd spend (Hmm, not sure what the cost is, actually.  There is no fee to buy one!)
…and typically for .5-1% fee  (Income riders may assess a fee)
We'd welcome the opportunity to earn your business.  We don't sell or share your information with anyone.  We *HATE* spam even more than you do.
Disclosures (more apply, depending on the product and state where the contract is signed/issued):
* Yep, you read that correctly.  What is the catch, disclosure would be the word.  This is subject to the claims paying ability of the insurance company.  This is NOT backed by any Federal Government Guarantees.
** Very restrictive in California.  Each state's regulators approve or disapprove of these benefits, therefore what is available in your state will vary by product and company.
*** Frankly, we focus on you, not your heirs.  If planning for your heirs is important, let us know and we can locate the best option for you and your heirs.