Allianz is, from what I can tell, an amazing company.  We were able to visit their United States campus in August of 2014.  I would also echo that they would be a great company to work for.  This article touches on Allianz being one of the top 100 US companies to work for.
http://www.businesswire.com/news/home/20150707006295/en/Allianz-Life-Promotes-James-Nelson-Vice-President#.VaQagPmjO-0
We have been working with Allianz since we first entered the financial services industry.  We believe very strongly in seeking out the very best solution for each client based on the clients needs.  Sometimes it is Allianz, sometimes the best solution is with another company.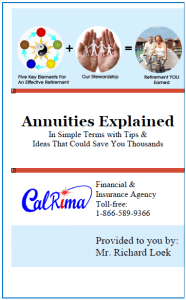 How can you tell if your advisor chose the best for you?
Call and ask for our no-obligation analysis.  The first annuity you have can be evaluated using our objective criteria.
Call toll-free and ask to speak with an annuity analyst – 866-589-9366