QLACs were in a design and regulatory definition phase for a while.  There are many reasons to consider a QLAC (Qualified Longevity Annuity Contract).  The regulations and guidelines were finalized and released in July 2014.
QLAC 101 the basics
In a nutshell, a QLAC allows the owner to shelter part of the IRA from required distributions.  When an IRA/401k owner reaches the age of 70 1/2 they must start taking distributions.  If they don't need the money they may want to put that money into a QLAC.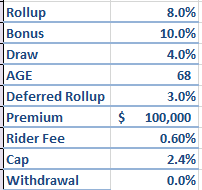 If they want to ensure they never run out of money, this *might* fit.  It is likely that another annuity will be a much better fit.  Then the question becomes, which annuity is best.  Well, that depends on several factors.  W use something sophisticated, it is called math & logic, to analyze what is the best fit for each client.  Call and ask to speak with one of our annuity analysts.  We don't share nor sell your information – you will only ever have one person to speak with from our company.
http://www.recordonline.com/article/20150710/NEWS/150719900
If you would like for us to help you determine what is the best fit for you, call us.  We can assist you for free or maybe a small fee, if you prefer.